03. December 2013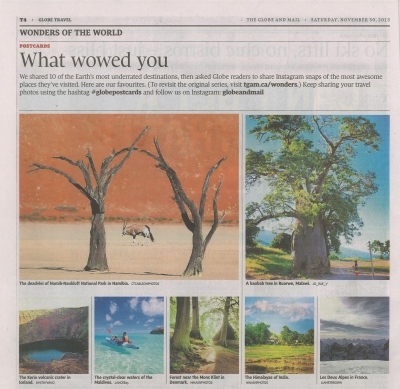 So I was just hanging out at home this past Saturday afternoon, when I got a call from my mom. "Did you know you were published in the Globe and Mail?!" Ummm...what?! Sure enough, two of my photos (that they found on my Instagram account) were published in their Travel section of the Saturday newspaper!
It reads: "What wowed you. We shared 10 of the Earth's most underrated destinations, then asked Globe readers to share Instagram snaps of the most awesome places they've visited. Here are our favourites. (To revisit the original series, visit tgam.ca/wonders)..."
Mine are on the bottom beside each other- the forest in Denmark (third from left) and the Himalayas in India (fourth from left).