13. November 2013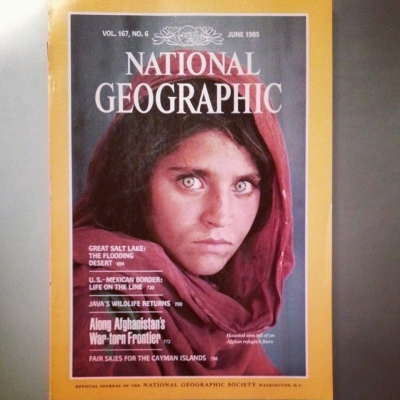 Everyone has seen the famous picture of the Afghan girl published in 1985. I came across her story again when her picture showed up on a recent issue of National Geographic. I was really excited about the issue and showed my dad, who has been collecting National Geographics for years.
We recently moved, and my dad asked me if I wanted to keep his National Geographics. I would have loved to, but I have nowhere to put them. He said he was unfortunately going to have to throw them out. My brother helped him throw them out into a large dumpster, and they sent me a picture of my dad holding the original Afghan girl issue, about to throw it out. I quickly texted back saying "keep that one!," but it was too late. I was so annoyed.
A few weeks later it was my birthday. I open one of my gifts and there it was- the original 1985 Afghan girl issue. My dad said that when he opened the trunk of the car to throw out the issues, one magazine fell out. Her haunted eyes looked up at him. He just had to keep it.